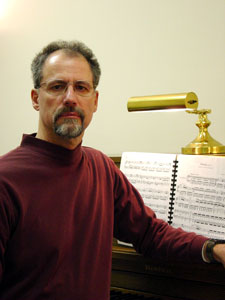 MASSELLA MUSIC STUDIO
Pittsburgh native THOMAS MASSELLA has over 23 years of experience as a music teacher both in the classroom and in private instruction. Locally, he has taught general and liturgical music in several parochial schools. As an undergraduate he taught piano and music theory in community music school programs, and has taught freshman harmony, arranging and orchestration at the undergraduate and graduate levels. Since 1990, he has maintained a private teaching studio with over 45 students in the South Hills. Several of his students have gone on to study music at Yale, West Virginia University, University of Dayton, Duquesne University, Baldwin -Wallace College and Oral Roberts University.
The Massella Music Studio is conveniently located at 300 Mt. Lebanon Blvd. in the Lebanon Shops. Areas of instruction include piano, beginner and intermediate snare drum, composition, music theory, keyboard harmony, ear training, sight singing and college prep theory for high school seniors.
Piano students ranging in age from beginners to adults are instructed in many genres of music which include classical, popular, jazz and blues, beginning jazz improvisation, ragtime, movie music and show tunes. Method books include Michael Aaron, John Thompson, Martha Mier, Faber and Faber and the Schaum Outline Series. Advanced students are gradually introduced to repertoire of the major composers.
If interested in lessons, please call 412-498-4020 or contact via e-mail
at: tmassella@comcast.net
For more information regarding lessons go to: Studio Policies and Procedures